Dalboka, mussel farm and restaurant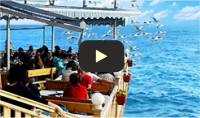 The mussel kingdom!
In the north, in Dobrudzha in one of the most clear regions of the Bulgarian Black Sea coast in the beautiful Kaliakra bay is located the Dalboka mussel farm. Here are cultivated ecologically clean Black Sea mussels, which are famous for their gustatory qualities and healthy components.
The mussels are preferred and healthy food since remote past! As far back as 2000 years ago the Romans included the mussels in their menu. Since then until nowadays the consumption of mussels increases because of the delicious dishes, which may be prepared and the unique composition and healthy components of their meat. The mussels are a natural "bioindicator" about the cleanness of the water, in which they live – they develop only in clean waters!
At the very sea coast above the bay and the farm is located Dalboka mussel restaurant. The restaurant offers an opulent menu of fresh sea mussels, which are obtained from the mussel farm, as well as variety of dishes of sea gifts. The opulent and delicious menu would satisfy and the most exacting taste. Besides the mussel specialties the menu includes selected fish and fish delicacies, fresh salads, appetizers, as well as dishes of pork and chicken meat, created with unique taste. Here you can enjoy magnificent view and listening to the whisper of the waves to be absorbed in one incredible atmosphere.
After the abundant dinner you may relax and rest in Akre Hotel. The hotel is located in village of Balgarevo, in the immediate proximity of the locality of Dalboka, in direction Kaliakra cape.

// read more //